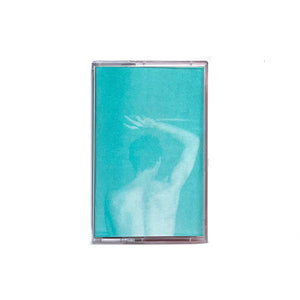 Various Artists
The Male Body Will Be Next Pt2
Format: CS
Label: Osàre! Editions
Cat No: OE 018
Following on from the celebrated first instalment, the second part of The Male Body Will Be Next compiles an entourage of daring sonic experiments, composed in response to bell hooks' landmark book The Will to Change. Prompting artists and musicians to envision cross-gender solidarity, Osàre! Editions founder Elena Colombi presents an enrapturing, narrative album, conceptualised around collective transformation.

Resonating with hooks' challenge to men to reclaim the sensitivity that patriarchy denies them, the name of the record arises from a photograph by Peter de Potter and Rebecca Salvadori's film of the same title. In these depictions, naked flesh is exposed, made vulnerable and trembles with emotion as the fragility of masculine bodies are examined through the queer and female oppositional gaze. Transforming this visual language into musical expression, The Male Body Will Be Next swirls with punk vitriol, electrified noise, acid, electro and free-wheeling encounters charged by love, lust and limerence.

Gently plunking chords signal Pose Diva's reimagining of lover's rock before Sissy Fuss smashes in with a heavy-weight instrumental version of their erotic anthem 'No Restraint'.
Made up of Turkish musician Etkin Çekin and Belarussian songstress Galina Ozeran, God is God delivers a gentle lullaby, while Low End Activist flirts with dark and brooding bass, shattering penetrating frequencies into luminous fragments. Riffing off the 2020 documentary about female early electronica pioneers, Loma Doom crafts a slowly oscillating drone zenith, the ultimate climax. In line with the conceptual underpinning, there are plenty of collaborations – Daytripper's Riva and Sitar player Tommy Khosla, Lebanese experimentalist NAR and Swiss-French producer John Silvestre (AKA Typhon), as well as Colombi herself and trans author/activist Juno Roche. Within these partnerships, new modalities come alive as mediums, practices and perspectives are ignited and pushed in otherworldly, metamorphic directions. 
---
Share this Product