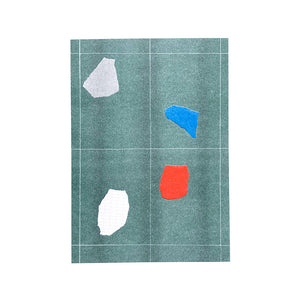 Silvia Ferpal
Tableros - A4
マドリード拠点のグラフィックデザイナー・アーティストのSilvia Ferpal。スペイン・サラマンカ拠点の<Raum Press>で印刷、マドリードのスモールパブリッシャー<ARAÑA>から出版。4色リソグラフ。


In the series Tableros, the Madrilian artist Silvia Ferpal investigates the information that things provide and different options for displaying data through small gestures, full of subtleties.
In a plastic way, he develops 5 pieces, a kind of artifacts that function as games without instructions, using torn geometric shapes, thus turning them into amorphous ones, which rest on perfectly delimited grids.
This series of games without rules allows the spectator to recreate themself in the aesthetics and the mathematics, as well as to invent his own norms of the game.

---
Share this Product